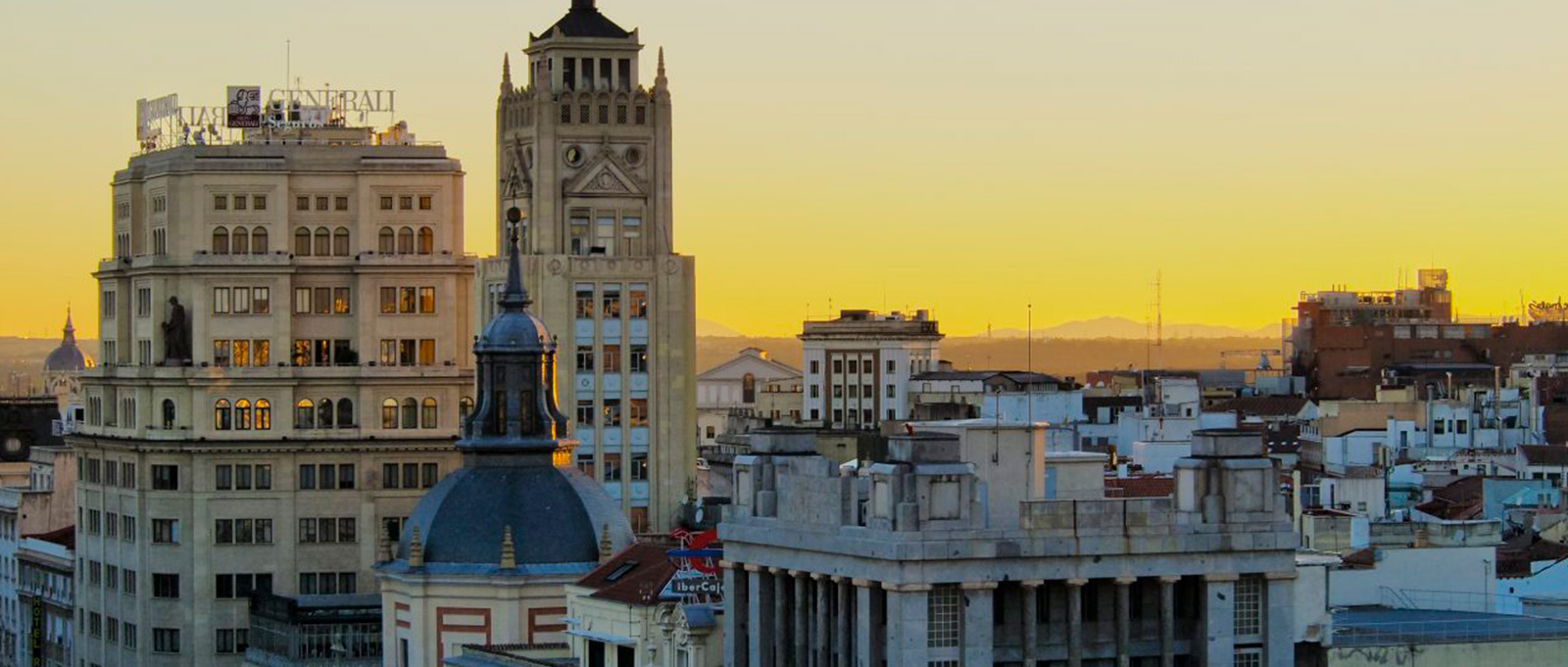 Here is a different way to discover Madrid from a fantastic vantage point: the city's rooftops are the perfect location to enjoy the magic skyline and the incredible variety of architectural styles with a drink in one hand and the sunset in the background.
Find below a selection of our favourite terraces and rooftops to enjoy the summer vibe from the capital's very top.
Círculo de Bellas Artes
Renowned for being the largest rooftop terrace in Madrid, this spectacular venue offers a panoramic view of the Spanish capital, encompassing Gran Vía, Retiro Park and La Latina.. Círculo de Bellas Artes. A favourite hot spot among art lovers, Círculo de Bellas Artes redefines dining with a view, and serves gourmets dishes all day long.
This fabulous rooftop restaurant stands on a three-storey, late 19th century mansion in the heart of La Latina neighbourhood. Many people visit this emblematic restaurant every weekend to savour its unique fusion cuisine of healthy, tasty dishes, and try their signature cocktails, while enjoying the soft light of Madrid's golden hour.
Torcuato
At the top of the ABC Serrano Shopping Center, a few meters from Tótem Madrid, Torcuato Restaurant stands on an impressive 700 square meter rooftop terrace overlooking the Castellana. Besides the view, its exotic, rich décor will certainly make an impression, not to mention the menu, featuring a great variety of fusion dishes inspired by cuisines from across the globe. Once the stars start shining above, you might want to stay longer and celebrate the night with one of their famous cocktails. You might like to know that – due to its very recent opening- the rooftop of the ABC Serrano Shopping Center is the new 'place to be' this summer.
Al ser una reciente apertura, la azotea de ABC Serrano es el nuevo 'place to be' para ver Madrid desde el cielo este verano.
El Corte Inglés de Serrano
Located on the seventh floor of El Corte Inglés de Serrano, the "Gourmet Experience" is the ultimate place for a true gastronomic moment… with a view! Home to the fabulous kitchens of three internationally renowned chefs, David Muñoz, with StreetXO, Roberto Ruiz, with Salón Cascabel , and Jordi Roca, with Rocambolesc., here visitors can discover the best of the world's cuisine. And there is more than meets the eye: the 100 square meter terrace of Salón Cascabel offers a spectacular view of Madrid including the Salamanca neighbourhood and the city centre, while tasting authentic Mexican tacos with Margaritas, watching the sun slowly set below the horizon.