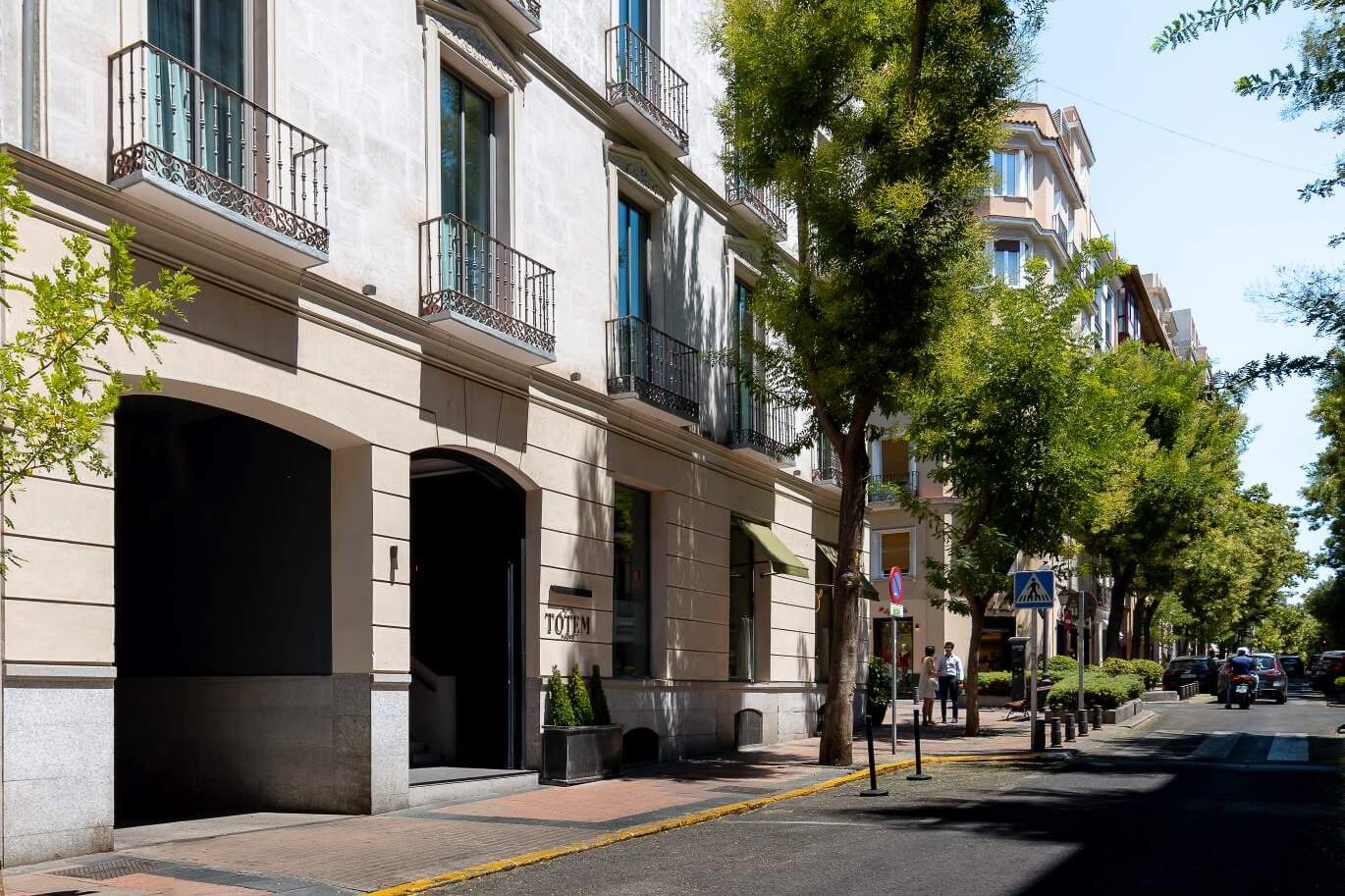 In the trendiest neighbourhood of Madrid, fashion permeates every corner, and the latest trends of each season adorn the shopfronts of international fashion houses and local boutiques. Tótem Madrid reveals the Spring-Summer 2023 trends on a stroll through the Salamanca neighbourhood – just a stone's throw away from your home in the heart of the city centre.
The early 2000s aesthetic has undeniably made a comeback for an extended season, but this time incorporating colours, fabrics, and structures that characterise the warmer months with transparent and lace details that will bring out our most feminine side. The runways of renowned brands like Burberry and Bottega Veneta confirm that lingerie will take centre stage this season. The slip dress will reclaim its place in our wardrobes and coexist with more daring choices, such as the satin pyjamas proposed by Antonio Marras or revealing cut-out dresses by Coperni, which you can find at Ekseption, Madrid's favourite luxury multi-brand boutique (C/ Velázquez, 28).
Asymmetric cuts, oversized volumes, and ruffles, accompanied by vibrant colours and playful prints, will infuse summer dresses with vitality and energy. Proof of this can be found in the new collections of brands such as Zimmermann (C/ Serrano 22) and Cherubina (C/ de Hermosilla 8), the Sevillian brand with a shop on the same street as Tótem Madrid, which is a hit among Spain's chicest women. 
Meanwhile, denim will continue to reign as the ultimate staple of casual style, incorporating new pieces such as corsets, low-rise trousers, and distressed denim tops with strapless cuts. You can find these items at shops like Diesel (C/ Serrano 14).
Accessories will continue to play a crucial role in complementing any look. This season, extravagant jewellery, oversized sunglasses, and strappy sandals are taking the spotlight. Discover the latest accessories from the sustainable Spanish brand, Malababa, a must for honest and mindful luxury that uses high-quality materials while reviving traditional and artisanal techniques (C/ Serrano 8). 
A delightful stroll through the shop windows of the Barrio de Salamanca confirms that the fashion of Spring-Summer 2023 is vibrant, feminine, colourful, and full of life, just like Madrid itself. Discover it with Tótem Madrid.