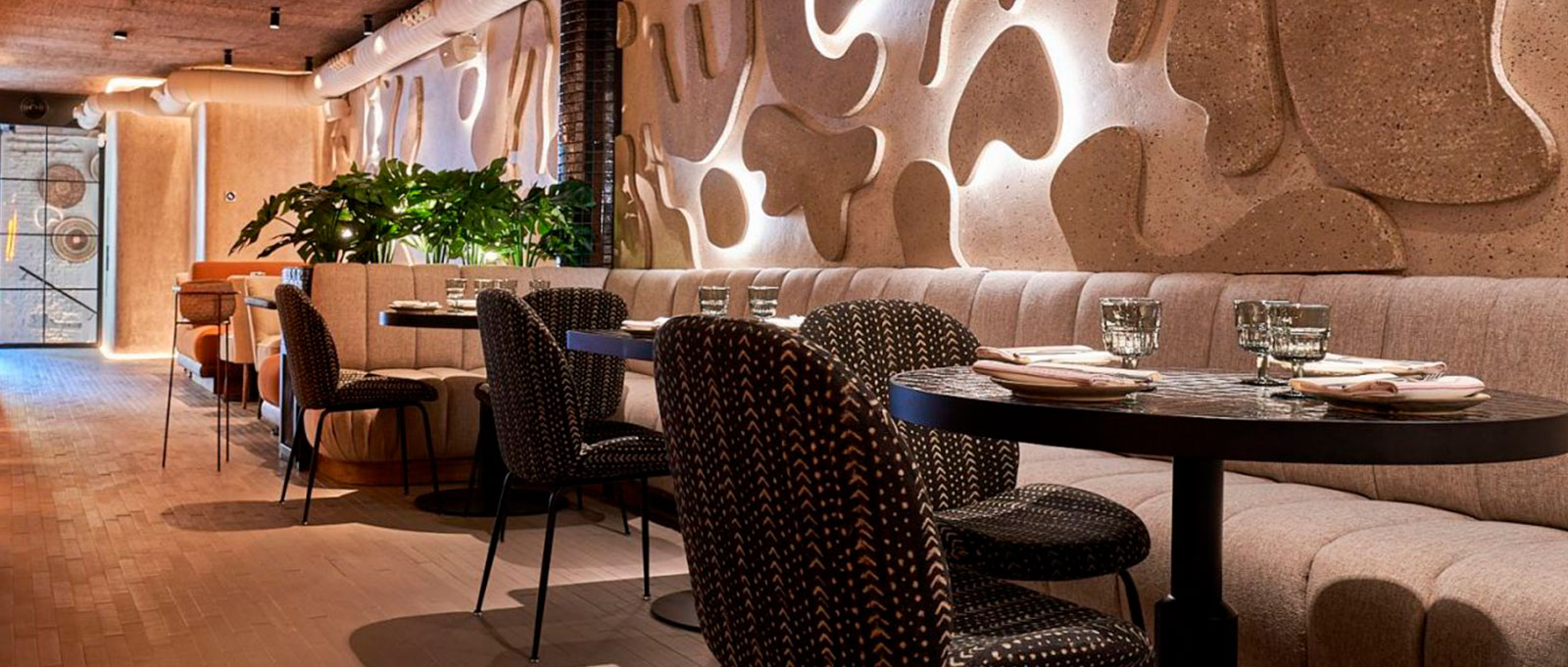 We landed in Madrid, the city that has a little piece of our heart. We are ready for a few days of letting ourselves be carried away by the small (and large) pleasures of life. We have a very clear route through the shops of the Golden Mile, now we only need our gastronomic plan… where do we start?
Betting on a gastronomic craft, the restaurant Terracotta reinvents traditional cuisine without forgetting who is the true protagonist: the product. With a careful menu with the utmost attention to detail, Terracota is quite an experience. Its warm interplay of light and shadow and its focus on the organic shapes of nature clearly set the mood for this restaurant that is creating a lot of buzz with its unique interior design, seasonal recipes and Sangaree's, its innovative signature sangria.
C/ de Velázquez, 80
©Terracotta
There is no better way to describe La Parrilla de La Máquina like the grill more chic from the Milla de Oro. This restaurant of the famous La Máquina group, which has been conquering the hearts and palates of the capital for 40 years, has become an emblem following the group's philosophy of offering the best raw materials, including fresh fish large, exquisite meats and vegetables from the garden, cooked on the fire of its grill.
C/ de Jorge Juan, 22
For lovers of Italian gastronomy, Pante portrays the simplicity of this renowned cuisine with a typical Sicilian touch from the island of Pantelleria, which baptizes its name. Plastered walls, local tiles and a sophisticated atmosphere without losing that warmth that we love so much about authentic Italian culture. Focused on the raw material, their dishes transport us to a Sunday at the Sicilian Nonna's house with fresh products of the highest quality and recipes faithful to tradition with a contemporary touch.
C/ de Villanueva, 21
Each restaurant that Grupo Paraguas opens is a big success and it may Amazónico be the jewel in the crown of this Madrid group that has not only conquered the capital, but also other cities such as London and Dubai. What to expect? An international gastronomic proposal with exquisite fusions from around the world in a cosmopolitan and very unique environment. Paying homage to its name, as soon as you enter the doors of the restaurant, you will feel like you are in a real jungle in the heart of Madrid.
C/ Jorge Juan, 20